All your concerns can be solved with a specific solution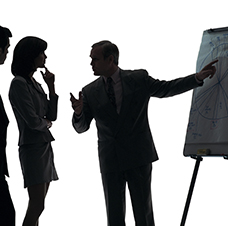 Training sessions
Industrial Property is not only the concern of Companies' legal services.
Each operator of the chain which goes from the conception to the sale of a new product has to be aware of its various facets.
This is why it is essential for marketing and commercial managers to understand the main legal concepts relating to the protection and defence of Industrial Property rights.
Our team of lawyers offers training sessions in Industrial Property aimed at defining the main issues relating to trademark, design, copyright and domain name fields and may reply to questions such as:
what is valuable of protection for a new product ?
what preliminary measures should be taken before the launch?
what are the various legal instruments of protection ?
how to ensure the company is not infringing third parties' rights ?
how to define a comprehensive protection ?
what are the available remedies in the cases of infringement ?
These sessions may complete an audit of protection or follow the entry of a new client.
Let's meet to ensure you a tailored protection

---
We look forward to meeting you and your team and helping you define your goals, develop solutions and apply them.